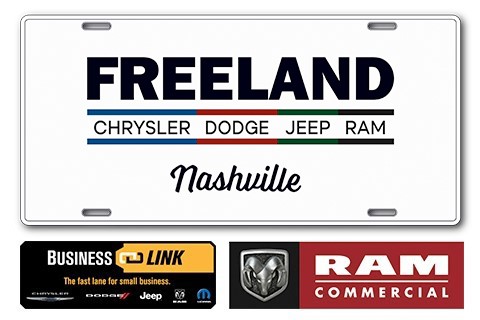 Freeland Chrysler Dodge Jeep RAM

Company Description
Freeland RAM is proud to be a full-service Fleet & Commercial dealership serving customers in middle TN, and the entire TN, Northern AL, and Southern KY area. No matter if you are purchasing your first work truck, a fleet of work trucks or a few cargo vans for your business, our goal is to provide an unmatched inventory, competitive pricing, and world class service before, during and after the purchase.
Freeland RAM is an exclusive provider of extended warranties for MD commercial vehicles. This exclusive program allows you the opportunity to go beyond the limitations of other dealerships who can only offer limited extended warranties on LD and HD vehicles. With our exclusive program, you can cover all your commercial vehicle purchases, including MD, beyond the factory warranty period and typically for unlimited mileage throughout the US. We also proudly work with Chrysler Capital, Ally, and many other banks / leasing companies making our ability to assist you with all your financing or leasing needs second to none.
Our customers drive from throughout TN to experience first-hand our outstanding customer service and unmatched selection of commercial vehicles. If you cannot make it to us - delivery can be arranged to anywhere in Tennessee, Kentucky, Alabama, South Carolina, North Carolina, Florida, Mississippi or frankly anywhere else in the United States for a nominal additional cost. We partner with many NTEA – Certified Upfitters and Bailment Pools such as Knapheide, Monroe, Reading, Wil-Ro, CM Truck Beds, and CTVE. This represents only a small list of our bailment pool / upfitter partners. If there is someone not listed that you work with, please let us know and we can contact them to facilitate the transaction and negotiate on your behalf. Our Fleet & Commercial Department also works with most fleet management companies (FMC) including Enterprise Fleet Management, Donlen, LeasePlan, Wheels, ARI, Element, MotorLease, Doering, Sutton Leasing, Union Leasing and VANARAMA for Fleet Out of Stock purchases. Please let us know how we can help with your factory orders or immediate fleet out of stock purchase needs. We work with fleet customers that have a VIP, CAP, CPA, or large fleet account number with FCA, RAM, GM, Chevrolet, GMC, Ford, Nissan, or Mercedes Benz. Dare to compare our pricing and vehicle line up!
Among the vehicles we carry the RAM Promaster will stand up to any comparison to the Ford Transit, Chevrolet Express or Sprinter! The RAM Promaster City is hands down a better alternative than the Ford Transit Connect and with the recent discontinuation of the Nissan NV 200 it makes the choice even easier. When it comes to trucks, whether you need the classic style 1500 or the new body style 1500 or 2500 we stock both ready for delivery. Our all new RAM 3500, 4500 and 5500 chassis cabs provide the ultimate platform for a custom upfit as compared to a Ford F-350, F-450 or F-550. Freeland RAM Commercial has one of the largest inventories in the SOUTHEAST with over 200 work trucks, chassis cabs and cargo vans available. Our trucks are work ready, in stock, ready for delivery, test drive or demo! Check out our selection of RAM 1500, 2500, 3500, 4500, 5500, Promaster, Promaster City. We are first stop, only stop for LD, HD, and MD RAM trucks or cargo vans available for DELIVERY!!!
Please contact our Fleet and Commercial Department at 615-731-9479 to learn why FREELAND RAM, your NASHVILLE RAM COMMERCIAL dealership, is the premier Dodge Chrysler Jeep Ram dealership for any fleet, small business, commercial or government vehicles.
Categories
Division 20 - ABC Miscellaneous
To Top